Below you will find some Frequently Asked Questions and technical solutions to using our website, our Online Learning Hub and our workshop registration tools.
We are updating this page all the time, so check back soon if you have further questions about how to use our platforms.

If you require a specific answer to a question not listed here, please go to our Get In Touch page and fill out the contact form, or give us a call.

Last Updated: 9 May 2023
Online Learning Hub
Module Certificates
Your Certificate for a completed module will not be available until you click on the 'Certificate' tile on the page of the module you completed. If you go straight to the 'Certificates' section of the Online Learning Hub your certificate will not automatically be there.
To access a Certificate for a module you have completed, you must first click the 'Certificate' tile on the module page.

---
When you click this it will open up a 'Certificate' box. Click on the 'Custom Certificate' tile to go through and download your certificate.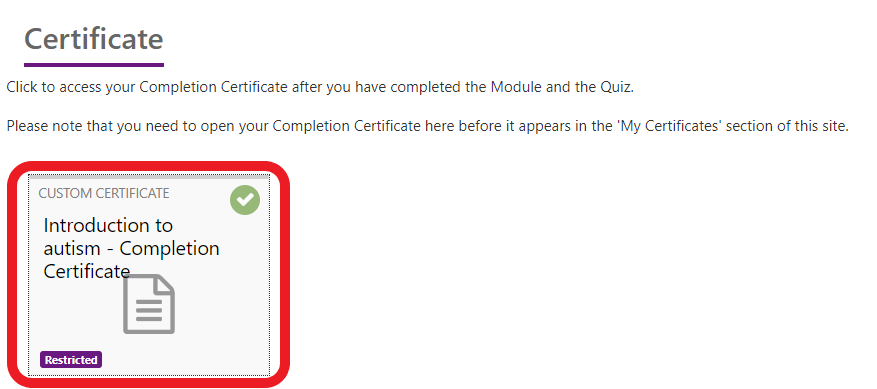 ---
Now, you can access your certificates in the future by clicking the 'Certificates' link on the top menu of the Online Learning Hub:

---
Pop-Up Window Error
Most web browsers include a feature to block pop-up windows. On our Online Learning Hub, some of our modules open in a pop-up window. So, if your browser is blocking pop-ups, it will block access to these modules.
Below are instructions for how to allow access to our modules in different internet browsers. Please refer to these instructions if your browser is currently blocking pop-up windows:
Safari (Mac)
Safari is the internet browser for Apple computers and mobile devices.
On the latest version of Safari, to allow pop-ups:
Go up to Safari's menu and choose Preferences... and click the Websites tab.
From the Pop-up Windows option you will see currently open websites
Look for positivepartnerships.learnbook.com.au and click the box next to it
Select Allow and close this menu box. Our modules will now be available to you in a pop-up window when you use Safari
More information on Safari pop-up settings here: LINK
---
Chrome (Windows/Mac)
In Chrome, at the top right, click More Settings.
Under Privacy and security click Site Settings
Click Pop-ups and Redirects
At the top, turn the setting to Allowed
More information on Chrome pop-up settings here: LINK
---
Firefox (Windows/Mac)
Find the most recent instructions on pop-ups in Firefox here: LINK
---
Internet Explorer 11 (Windows/Mac)
In Internet Explorer, select the Tools button
Select Internet Options
On the Privacy tab, under Pop-up Blocker, select or clear the Turn on Pop-up Blocker check box, and then select OK
More information on Internet Explorer pop-up settings here: LINK

---
Edge (Windows 10)
Click the ellipsis icon (...) in the upper right corner of Edge, and then click Settings
In the Advanced settings section, click View advanced settings.
In the Block pop-ups section, click the switch to Off. Pop-ups are now allowed
---
Remember, after you have turned off pop-ups to access our modules, you may need to turn them back on again. Refer to the instructions above to go back in and turn pop-up blocking on again if you need to.
Post-Workshop Modules not loading
The latest system requirements for our post-workshop modules, if you are completing a '2-Day Professional Learning' or a 'Whole School' workshop, are:

Windows
Google Chrome (latest version)
Microsoft Edge (Chromium-based, latest version)
Firefox (latest version)
---
Mac
Google Chrome (latest version)
Safari (latest version)
Firefox (latest version)
---
Mobile
Safari in Apple iOS/iPadOS (latest version)
Google Chrome (latest version) in Apple iOS/iPadOS (latest version)
Google Chrome (latest version) in Android OS 6 or later
---
If you are still experiencing difficulties with accessing these or any other of our modules, please get in touch with us.
Module Completion Status
Have you completed a module but it isn't showing as complete? There may be a couple of reasons why:
If you are completing our Introduction to Autism module, have you also completed the quiz outside of the module? There are questions throughout the module, but we also have a final quiz for you to complete. You can find it here: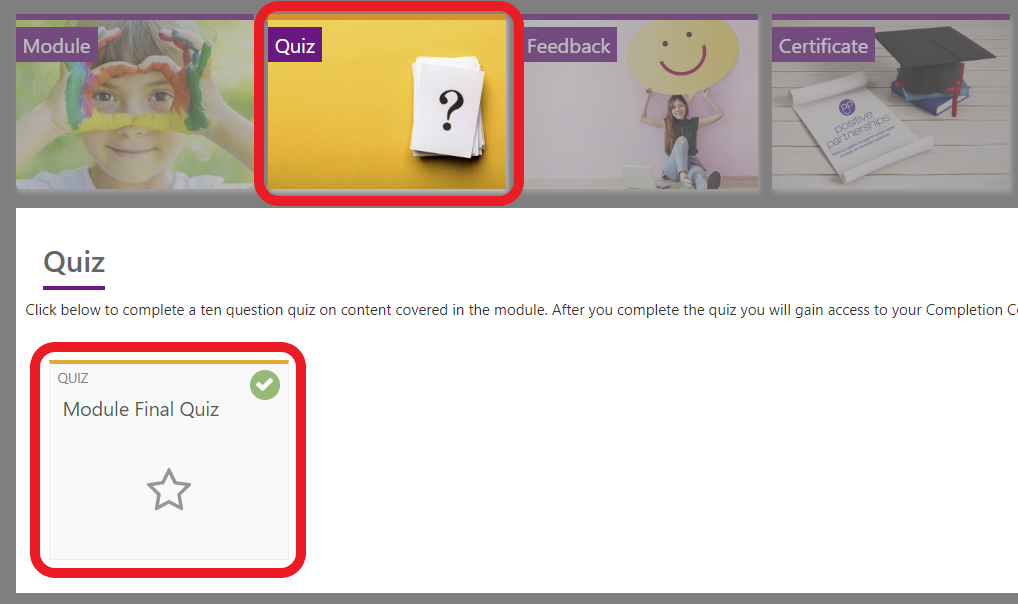 Have you clicked on the Certificate tile near the module? You need to click on your certificate before the module will register as 100% complete
After you have completed all the module requirements, it can sometimes take up to 15 minutes before your module will register as complete - but don't worry, you can access your certificate of completion immediately
Webinar Recordings
We are redesigning our webinar recordings page and the way users access this: in the meantime, you can watch recordings of our webinars on our website under the relevant content page through our 'Practical Tools and Information Sheets' resource directory:
Positive Partnerships | Practical Tools and Information Sheets
We anticipate the webinar recordings page will be available again in our Online Learning Hub by June 2023.